Full PBX & Key Systems

Presence Management

Multi-Site Integration

Unified Messaging

Voice Over Internet

Customizable Features

High-Fidelity Voice

Powerful Conferencing

Connect Anywhere

Built to Last

Call Assistant™

Automatic Call Distribution

Conference Center™

Advanced Multi-Site

Dual Language Support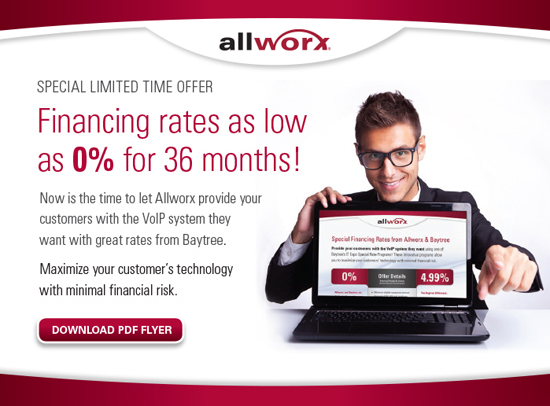 Future-Proof Your Business:
Allworx's ability to support both traditional and VoIP telephone services provides a 'future-proof' solution that can grow as technology changes, allowing customers to manage their transition to VoIP at their own pace. With Allworx, you receive all the business productivity enhancements, cost savings and flexibility of VoIP with no risk of disruption to your business. Case Studies
More For Your Money:
Allworx solutions have the flexibility to accommodate any configuration, whether your business connects via VoIP trunks, traditional phone lines, or T1/PRI, making it the easiest and quickest system to install. This means Allworx has the absolute lowest installed cost of any integrated VoIP PBX/Key system solution in the industry.
Comprehensive and Customizable set of SMB Features - No other solution provides a more complete set.
All Allworx systems and telephones support a complete set of phone system features, including:
Follow-Me-Anywhere cell phone integration
Consolidated messaging
Remote user functionality
True "Line Appearances" (even on VoIP trunks)
Hands-free intercom
Zoned paging
Other features usually associated with large enterprise-class systems are also available:
8-way conference bridges
Automatic Call Distribution
PC-based call answering and monitoring software
Multiple Auto Attendants
Advanced multi-site capabilities
Dual language support
Wireless headset support
More Info:
Please include your Contact Information to: BNWorx Sales
We will get back to you ASAP, or call 865.272.9674



Knoxville, TN
865.272.9674